Steward Health Care Appoints Sr. Vimala Vadakumpadan to Board of Directors
DALLAS, TX -- Steward Health Care today announced the appointment of Sr. Vimala Vadakumpadan to its Board of Directors. A member of the Dominican Sisters of the Presentation, she has served as Chairperson of the Board of Steward's Saint Anne's Hospital in Fall River, Massachusetts since 2005.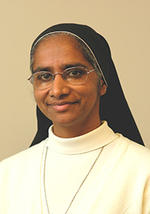 A native of Kerala, India, Sr. Vimala received a Bachelor of Arts in Management from Bhopal School of Sciences in Bhopal, India, a Bachelor of Science in Business Administration from Stonehill College and a Master of Business Administration from Providence College. In addition to serving as Chairperson of the Board at Steward's Saint Anne's Hospital, she has held a number of positions in the Dominican Sisters of the Presentation including Provincial Superior in the U.S. and Provincial Superior of India. Sr. Vimala started her career in the accounting department of Saint Anne's Hospital after teaching high school in Kerala, India.
In making the announcement, Steward founder and Chairman Dr. Ralph de la Torre said, "No one embodies Steward's sense of mission more than Sister Vimala. It is in large part due to her commitment that Saint Anne's Hospital, which she has guided for almost two decades, continues to exemplify the highest ideals of patient care. Sister Vimala's passionate commitment to patient care and social justice has been an inspiration to me and I know she will make a valuable contribution to our board."
Sr. Vimala will join fellow board members Dr. de la Torre, Dr. Michael Callum, Fmr. Fluor CEO Carlos Hernandez, real estate developer James Karam, Ret. General H.R. McMaster, and fmr. Speaker of the House John Boehner.
"Steward is committed to ensuring access to quality healthcare for diverse and historically marginalized communities, and Sister Vimala's appointment will strengthen our collective ability to achieve our mission as a minority-owned and physician-led organization," said Mr. James Karam, CEO of First Bristol Corporation, who has served on the Board since Steward's inception.
About Steward Health Care Network:
Steward Health Care's physician-owned and led business model was built to unlock access to the highest-quality care at a sustainable cost, committed to providing personalized, ongoing medical services that positively impact patients' physical, emotional, and mental wellbeing. 
Founded in 2010, Steward Health Care is the largest physician-owned health care network with more than 5,500 providers and 45,000 health care professionals empowering the health and wellness journey of 12.3 million patients a year through its extensive global network of hospitals, urgent care centers, skilled nursing facilities and substantial behavioral health services. 
Based in Dallas, Steward currently operates 39 (44 after the finalization of the recently announced South Florida acquisitions) hospitals around the world, including 34 across Arizona, Arkansas, Florida, Louisiana, Massachusetts, Ohio, Pennsylvania, Texas and Utah, as well as five internationally within Malta and Colombia.
For more information, visit www.steward.org.